This project, started in 2014, aims to increase the access to necessary medical diagnostic tests to patients in remote regions of the world. Our research group has developed a portable medical diagnostic kit that allows remote medical testing and assessment. Our devices have the capability of sending medical information wirelessly to a secure server where remote emergency and specialist physicians can access and analyze the data and provide a clinical decision.  MedROAD virtual clinic (Figure 1 & 2) consists of numerous portable medical-grade instruments, such as a fully automated blood chemistry analyzer capable of measuring up to 100 metabolites. All devices transmit geo-located data wirelessly via a smartphone, which relays the encrypted data in HL7 to a secure remote server using an internet connection through LTE wireless or satellite connections. At the server location, the new data is then automatically analyzed by the server computers and compared to known pathologies and the patient history using machine learning algorithms. Following data analysis, alarms are generated to warn the remote specialist physician to take a closer look at a specific patient data point, allowing for faster treatment strategies.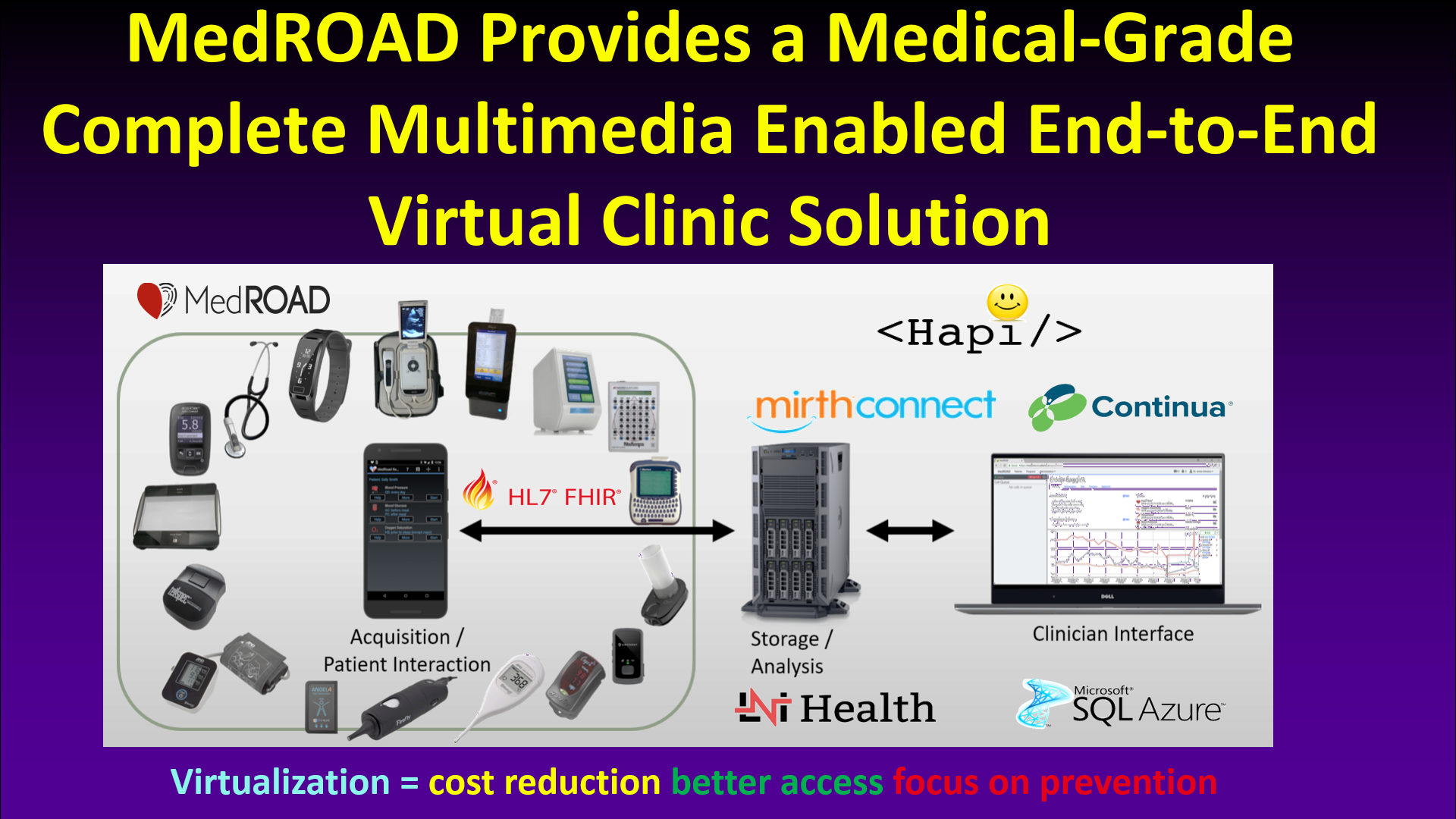 Figure 1: MedROAD Virtual Clinic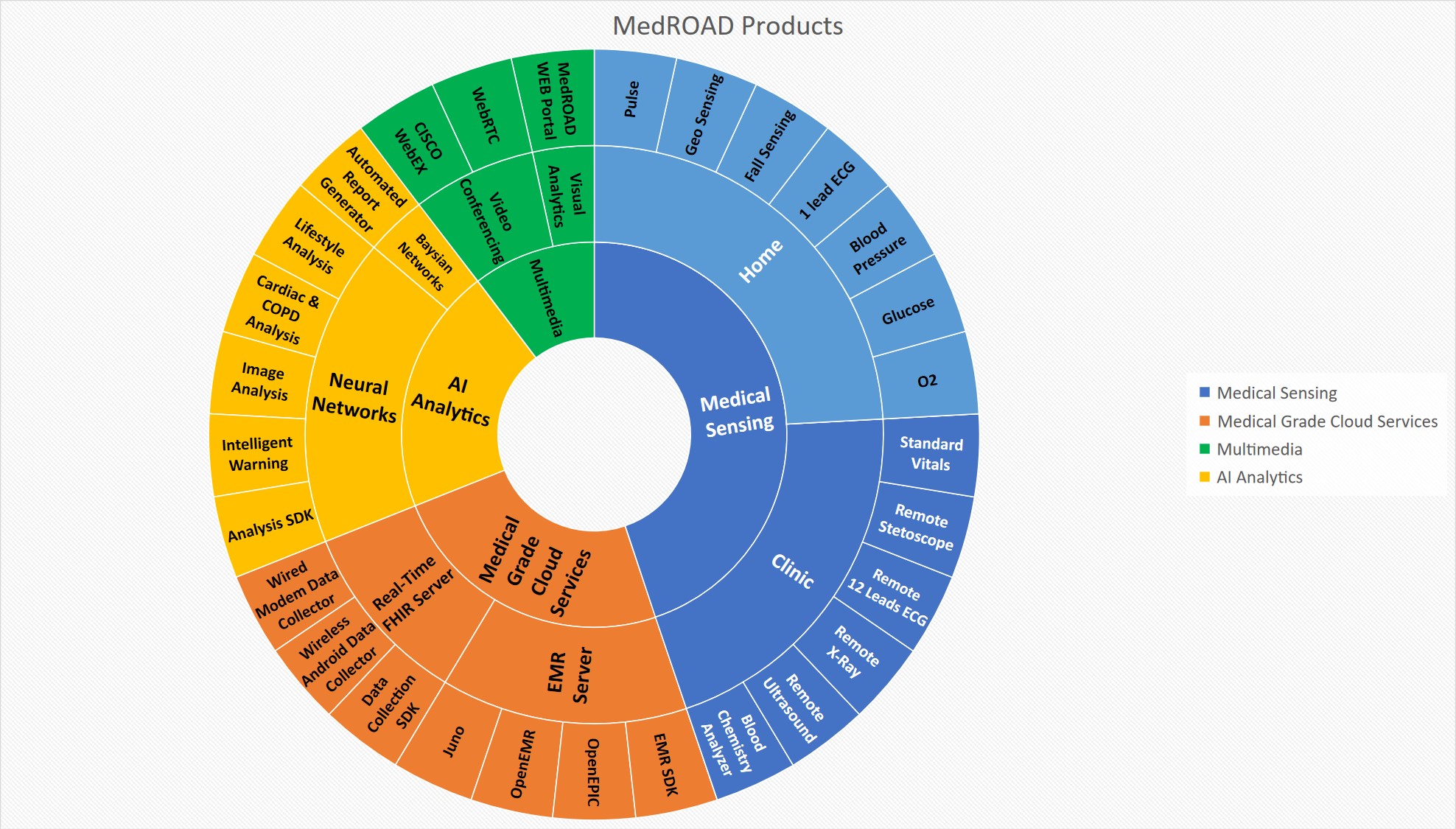 Figure 2: MedROAD Technologies
From 2016 to 2019, we did numerous pilot projects with aged care facilities and medical clinics to test and optimize the concept of MedROAD. Over the years, MedROAD evolved to be a large software that needed to be re-engineered to reach a sufficient level of maturity that will allow us to go beyond proof-of-concept to real deployments at medical facilities. In 2019-20, we started this re-engineering process.  As with most large software, this was quite an endeavor and required the hiring of two more programmers. During this period, we did numerous stress tests on the system to verify the overall robustness and its ability to scale. We also documented the software professionally and used industry-standard software engineering tools to test and manage configurations. We also deployed the MedROAD server on Amazon Web Services (AWS) cloud computing facilities to move the current server outside the non-secure university environment to a more secure and scalable environment. We now have a stable and well-documented version of the software ready to be deployed in 2020-21 to real-world clinical applications.
Deployment of MedROAD Virtual Clinic: Starting August 1, 2020, we will initiate the deployment of the new re-engineered version of MedROAD Virtual Clinic at two sites. The first project is to deploy MedROAD VC at two private clinics managed by Dr. Cathy Scrimshaw from the Alberta College of Family Physicians (ACFP). We aim to demonstrate that MedROAD can provide a safe and effective way to deliver high-quality care to patients, lower the cost and risk associated with on-site clinical activities, and to promote seamless delivery of care during COVID-19. The partnership with Dr. Scrimshaw provides a unique opportunity to explore how virtual clinics can lead to a better quality of care in urban and remote communities, improving health outcomes, and introducing a preventative healthcare model. Furthermore, this deployment presents an incentive to explore educational and policy-making opportunities concerning virtual care and/or telehealth during a pandemic and a post-pandemic environment. To encourage this initiative, CISCO invested $50K to help us defray the cost of this deployment. This 5-month project will run six months ending on December 31, 2020. The project will be under the guidance of Dr. Boulanger's CISCO Chair but will be executed by Naiad Lab Inc. under a subcontract.
MedROAD for COVID-19: Ever since the start of the COVID-19 pandemic (Feb. 2020), we were asked by our medical partners to find new ways to retarget MedROAD functionalities to deal with healthcare system needs. Possible new features include the ability to do teleconferencing with patients and healthcare providers using CISCO WebEx technology instead of WebRTC, the addition of low-cost sensors to monitor the evolution of  COVID-19 remotely, and the development of advanced machine learning algorithms for the automated data analysis of possible infection. One can see in Figure 3a how MedROAD could be retargeted to track COVID-19 infection during the mandatory 14 days quarantine using a low-cost sensor measuring SPO2, pulse, and temperature. A second potential application of MedROAD (Figure 3b) is to detect possible COVID-19 infection of employees at work using an inexpensive instrumented watch that can measure blood pressure, SPO2, temperature, and pulse. In both cases, advanced machine learning algorithms using Bayesian Networks are now being implemented by two graduate students, and a pilot study of the functionality of both systems will be performed by the end of 2020.
| | |
| --- | --- |
| | |
| Figure 3a: MedROAD for Monitoring COVID-19 Quarantine Process | Figure 3b: MedROAD for Motoring COVID-19 at Work |
Continuous Monitoring of Acute Cardiac During COVID-19: We are continuing the integration (into MedROAD) of a new wearable technology vest developed for the Canadian Space Agency by Carre Technologies Inc. of Montreal called Astroskin (Figure 4a). This new vest tested by the Canadian astronaut David Saint-Jacques in June 2019 during a mission at the international space station, combines numerous sensing devices into one wireless, easy-to-use garment that records vital sign data in real-time. This vest measures pulse and electrical activity of the heart, blood pressure, breathing rate and volume, skin temperature, blood oxygen saturation, physical activity levels.  Our goal this year is to start the implementation of new machine learning algorithms to measure frailty conditions of these acute patients, especially in the context of COVID-19 (see Figure 4b). One Ph.D. student will be working on detecting anomalies on long ECG measurements (48 hours) that will then be integrated into the Bayesian network to evaluate the overall condition of the patient automatically. The project is in collaboration with Dr. Becher at the Mazankowski Heart Institute, Naiad Lab Inc, and the R&D team of Carre Technologies.
| | |
| --- | --- |
| | |
| Figure 4a: Vital signs measurement using Astroskin vest | Figure 4b: Monitoring Acute Patients using Bayesian network |
For more information on MedROAD and its commercial version please contact Naiad Lab